Everyone Active's adult fitness membership offers you the best of everything we have to offer. As an adult gym member, you get unlimited access to just about everything Everyone Active has to offer. So, if you fancy a swim one day and a gym session the next, maybe followed by a soothing Yoga class; this is the membership for you!
As well as everything in-centre, with the Adult fitness membership, we also look after you away from our sites, too. As part of the adult fitness membership, you get your online Everyone Active Profile, which allows you to keep track of your progress, set goals and gives you access to a number of training plans and video workouts to enjoy at home.
You also get access to the exclusive Everyone On Demand suite of fitness apps included in your membership. These include WithU, EXI, FLEX and the world-famous Les Mills On Demand, all included as part of your membership. You get all this alongside a whole host of other member benefits, featuring deals from a wide variety of your favourite brands.
Unlimited gym Access
With your Everyone Active adult fitness membership, you get unlimited access to your centre's gym. This means you can take advantage of everything these wonderful facilities have to offer. If you prefer a cardio workout, our gyms are packed with the very latest Technogym treadmills, rowing machines, cycling machines and cross trainers.
If, on the other hand, you prefer to work on toning and building muscle mass, then there are plenty of resistance machines, as well as dedicated free-weights areas in all our gyms. They also all boast fantastic functional exercise areas, where you can work on bodyweight workouts.
Unlimited gym access allows you to pick and choose when and how frequently you come to the gym, allowing you to come up with a workout programme and stick to it. This will make it so much easier to reach your goals. The fantastic range of equipment will also ensure that you will be able to get a balanced workout, without putting too much stress on one part of your body. This is vital for ensuring you reach your goals and avoiding injury.
State-of-the-art gym Equipment
Everyone active gyms are jam-packed with all the latest fitness kit, including cardio, resistance, functional and free weights equipment. This means whatever your preferred workout, you'll find all the equipment you need in your local Everyone Active gym.
Cardio Gym Equipment
If you're looking to improve your cardio fitness, then our gyms have all the equipment you could need to help you do that. They're packed with all the latest Technogym treadmills, cycling machines, cross trainers and rowing machines to help build your fitness. Almost all gyms now come with WattBikes too, so you can measure your fitness and power levels in minute details.
Resistance Gym Equipment
Alongside Technogym cardio equipment, our gyms are also packed with resistance equipment from the same manufacturer. These are perfect for focusing your workout on a specific muscle group and helping ensuring you keep your form correct. Your form is important as doing the exercises correctly will help make sure you don't hurt yourself while exercising.
Resistance equipment not only helps build muscle and tone, but it will also help you build cardio fitness, as well as range of movement and suppleness in your joints, too. It's a fantastic addition to any well-balanced workout.
Free Weights
Just about all our gyms have a superb selection of TKO free weights for you to enjoy. From lighter weights for new-comers all the way up to really heavy weights for more experienced weight lifters. There are also benches, bars and frames to help you get the most out of your work out.
Free weights are an excellent add-on to any exercise regime. They help build muscle mass and tone. It can also help build strength around your joints. A dedicated free-weights regime will help make you stronger, fitter and more mobile.
Functional & Special Equipment
Functional equipment is kit that allows you to use your own bodyweight to work out with. Equipment that you'll find in our gyms to help you enjoy a functional work out include kit such as suspension trainers and ViPRs. We've also go BOSU balance balls, medicine balls, slam balls. Some gyms even feature XCUBES, which are the ultimate in functional training, offering everything anyone could ever need.
You'll also find battle ropes and weight sleds in many of our gyms, meaning you'll never get bored with your workout in an Everyone Active gym. There's always something new to try!
Personal Trainers
If you're unsure where to start, have a specific target in mind, or have hit a plateau with your training then you may want to try one of Everyone Active's Personal Trainers. Our PTs are experts in their fields and will give you a personalised workout regime designed to help you meet your goals, as well as giving you one-on-one advice and encouragement during your sessions together. It's a fantastic way to stay motivated and stay on track, whatever your goals are.
What to Wear and Bring
First of all, it's important to be comfortable in the gym. Wear clothing that's fairly loose (although not too loose) and breathable. Shorts and a t-shirt are a good place to start, although you can also try jogging bottoms or even a tracksuit or leggings. You'll also need a good pair of trainers, some comfy socks and a towel. You'll also need a pound coin or locker token for your locker in the changing room. As luck would have it, if you don't already have all this at home, you can purchase just about all of it at the Everyone Member Shop. Here you'll find everything you could possibly need for your workout, including equipment to enjoy exercising at home, plus you get a fantastic 10% discount off your first order.
New to the Gym?
If you're a newcomer to the gym, we realise it can be a rather intimidating place. That's why we always have friendly and knowledgeable staff on hand to help with any queries you may have. It's also important that, before you sign up, you speak to your doctor and make sure they give you the all-clear to take on extra exercise like this.
Online Induction
Before you start, you'll be required to take an online induction where you'll watch videos that show you how to operate the most popular pieces of equipment. You can re-watch these at any time and there are plenty more instructional videos to help you use any of the equipment you'll find at any of our sites. Furthermore, there are always Everyone Active colleagues on hand to give you a hand if you're struggling to work any of the kit out!
Swim as Much as you Like
Swimming is superb exercise. It works the whole body, toning muscle and giving us a great cardio workout at the same time. Combine this with its low impact nature (which makes it less likely to injure you) and you're on to a winner! With your Adult Gym Membership, as long as your centre has a pool, you'll be able to use it. Whether that's for pounding the lanes, trying to work up the fitness, or just to enjoy the water, that's up to you.
What to Wear
We're pretty relaxed about what you wear while you're swimming with us. As long as you're comfortable and you can still move easily, you should be okay. For men, things like trunks, swim shorts, Lycra leggings and close-fitting trunks are all fine, while for women, there are bikinis, tankinis, swimming costumes, Lycra leggings and swim dresses as well as short- and long-sleeved t-shirts. We also recommend you wear goggles and a swim hat, while you'll also need a towel, as well as a pound coin or a token for the lockers in the changing rooms. For full information on what you should and shouldn't wear, check out our swimwear policy.
If you're lacking anything, then just head over to the swimming section of the Everyone Member Shop. Here, you'll find everything you could possibly need for a session at the pool, from swimwear to towels, from goggles to locker tokens. It really does have everything.
Enjoy our Range of Group Fitness Classes
With your adult fitness membership, you'll also be able to take part in any of our fabulous range of group fitness classes. These include everything from intense, heart-thumping Bodypump classes, to more relaxed Yoga and Pilates sessions, as well as just about everything in-between. Whatever your age, fitness level or simply taste, we've got something for you.
Many of our classes are part of the world-renowned Les Mills stable and come in both live and virtual formats. Live classes are taught by an instructor that's in the room with you, while a virtual class uses a big screen and a pre-recorded class to take you through the workout.
Huge Range of Classes
The range of classes we offer to our adult fitness members really is second to none. Regardless of your preference, you're sure to find a group fitness class to suit you. We have hundreds of sessions to choose from, including cardio, toning and strength, as well as more relaxing classes.
Cardio Classes
If you want to improve your cardio fitness, then there are a number of group fitness classes we can recommend. Classes such as Les Mills Bodycombat and group cycling are among our most popular cardio-focused sessions. The former uses mixed martial-arts moves in sequences to give you a superb all-body cardio workout. Group cycling, meanwhile uses static bikes and you follow instructions to go at a certain pace and adjust the resistance on the bike according to instructions from the session leader.
Toning Classes
The Les Mills GRIT Athletic class is one of our most popular toning-centric sessions. This is a high-intensity interval training (HIIT) session that focuses on helping you achieve a lean, athletic body. Another Les Mills class – Bodypump – is also very popular. This fast-paced workout uses barbells to help get you toned and fit.
Strength Classes
Among our most popular strength-focused classes is the Les Mills GRIT Strength HIIT class. This is a 30-minute high-intensity interval training class that uses barbells, weight plates and bodyweight exercises to help you build muscle, cardio fitness and improve strength. It's a whole-body work out, too, so you won't miss any muscle groups out!
Relaxing Classes
Yoga and Pilates are some of our most popular relaxation-focused classes. These put the emphasis on ensuring proper breathing and stretching, rather than pushing the body to its physical limits. Classes such as these are also great for improving flexibility and range of movement in the joints, as well as improving mental health.
What are Virtual Group Fitness Classes?
Virtual group fitness classes are just like our live instructor-led sessions, except they are led by pre-recorded instructors on a big screen. Often, they are led by the same people who devised the classes themselves, so you know you're getting the very best instruction possible. Furthermore, virtual classes are a great option for anyone wanting to try a new class before committing to a specific live class. Without the pressure of having an instructor there, if you're not enjoying it, or you've just had enough, you can always sneak away without anyone seeing you!
What to Wear
Again, comfort is key here. It's important you feel comfortable while you're taking part in your group fitness class – whatever it may be. Whatever you wear, make sure you can move in it – that's really important! You don't want to find you can't do one of the moves because your clothes won't let you. That means stretchy fabrics are advisable and t-shirts, Lycra leggings, jogging bottoms or shorts are probably the best way forward.
As for your feet, for most group fitness classes, a good pair of trainers are all you'll need, but for some sessions, such as Yoga and Pilates, you'll be expected to go barefooted or in socks. For sessions such as these, you may also need items such as Yoga mats, straps and blocks.
Once more, everything you could possibly need for your group fitness class can be found via the Everyone Member Shop. From clothing to footwear to equipment, we've got you covered. And, best of all, you even get a 10% discount off your first purchase!
New to Group Fitness Classes?
Don't worry if you're new to group fitness classes, we're here to help you get settled in. Our colleagues in-centre and especially your class instructor (assuming your class is a live, rather than virtual session) are on-hand to answer any questions you may have. If you're not sure what to wear, you can find advice on that above.
How to Book
You need to book yourself onto your favoured class each week. You can do this either via our mobile app, your profile on our website, or in-centre.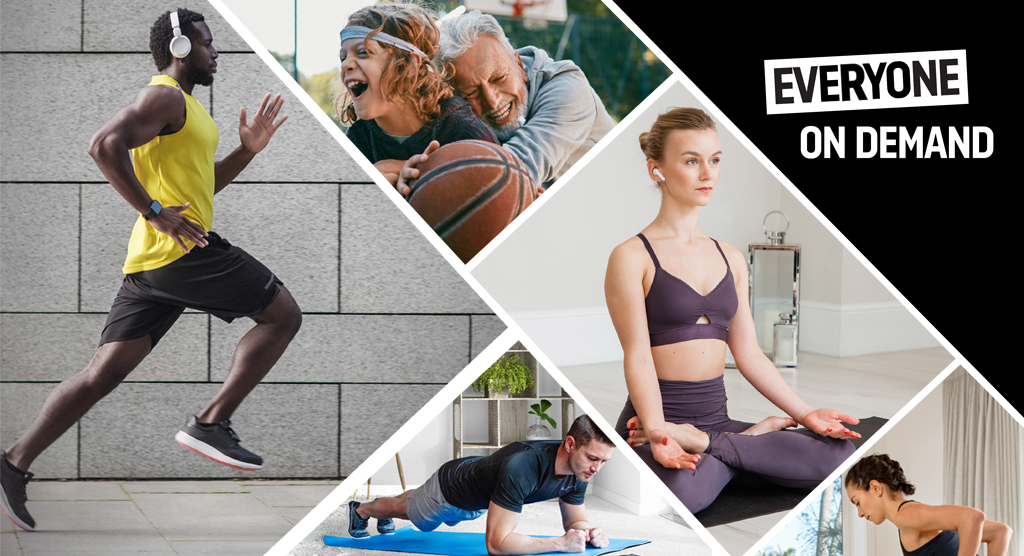 Everyone on Demand
If you don't fancy coming down to the centre just now, or you're just too busy, why not work out at home? That's just what Everyone on Demand allows you to do. As part of your adult fitness membership, you get access to four superb fitness apps that allow you to enjoy hundreds of online video and audio workouts, hosted by experts. Whatever you're after, there's bound to be something for you.
Les Mills on Demand
This fantastic app gives you access to more than 300 of Les Mills' most popular online video workouts. From hardcore Bodypump and Bodycombat sessions, to more relaxed Bodybalance and Bodyflow sessions, this app has got it all. There's even a work out specially designed for kids – Born to Move. All the classes are hosted by the very same instructors who designed the workouts, so you know you're getting the very best instruction.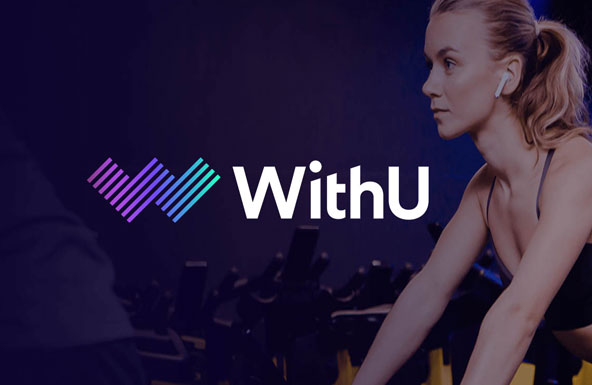 WithU
This is something a little bit different. Rather than using video, WithU is an audio-based app that coaches you through your workout via your phone's speakers or earphones. This means you don't need to be in the house or near a big screen to take full advantage of the workouts on offer. There are more than 600 available, including HIIT, running, cycling and Yoga, all of which are coached by world-class instructors.
FLEX
FLEX is more like a traditional fitness, giving you access to hundreds of fitness videos and workouts on your phone, tablet or computer. This allows you to work out wherever, whenever. Perfect if you're too busy to get to the gym that day!
EXi
EXi analyses your health, current fitness level, disease status and resting heart rate. It then produces a personalised exercise plan that will gradually and safely help you increase your activity levels and improve your health.
Everyone Active Profile
Finally, with your adult fitness membership, you get access to your Everyone Active profile. This allows you to keep track of everything to do with your Everyone Active membership, but it also has a few other party tricks. For example, you can keep track of your progress towards your goals, whether that's a specific weight, and amount to lift or a time to run or cycle a certain distance, it can all be recorded here.
Secondly, there are a whole host of video workouts and training plans for you to try. These have all been developed by experts and are certain to help you reach your targets. Thirdly, there's the member benefits area. This is packed with deals and offers from some of your favourite brands.
Knowledgeable Colleagues
Everyone Active's colleagues pride themselves on being friendly, helpful and knowledgeable. Whatever your query or problem, if its with your adult fitness membership, or a piece of equipment, we're here to help. Whether that's the person behind reception, the lifeguard in the pool or the fitness motivator in the gym, they'll do their best to help you in any way they can or find someone who can.
So, that's the Everyone Active adult fitness membership. If you like flexibility in your gym membership, then this is the package for you. It covers all the fitness bases, both in and out of the centre, meaning you can stay fit and active whenever and wherever you are.